Super shoes: technological evolution or technological doping?
What are super shoes?
At the start line of any running race nowadays you will see a sea of Nike trainers. Marketing heft aside, that is partly because, over the last few years, Nike has pioneered radical changes in running shoes. Models such as Vaporfly contain thick foam cushioning and a snappy carbon plate, and may result in athletes running as much as 3.4% quicker than those wearing trainers without that technology.
Thirty one of thirty six podium positions at major marathons in 2019 were taken by runners wearing these "super shoes" and countless records, from 5km to the marathon, have been broken by athletes wearing them since they were first introduced in 2016.
The graphs below show, for the men's outdoor marathon world record: (a) the improvement in the world record over time; and (b) the percentage improvement of the record, i.e. the percentage by which each runner has broken the last record. As seen from the second graph, the record was gradually lowered by around 0.2 – 0.39% on each occasion over a period of 11 years, but when Eliud Kipchoge broke the record in 2018 – wearing Nike's Zoom Vaporfly shoes – he smashed it by 1.06%.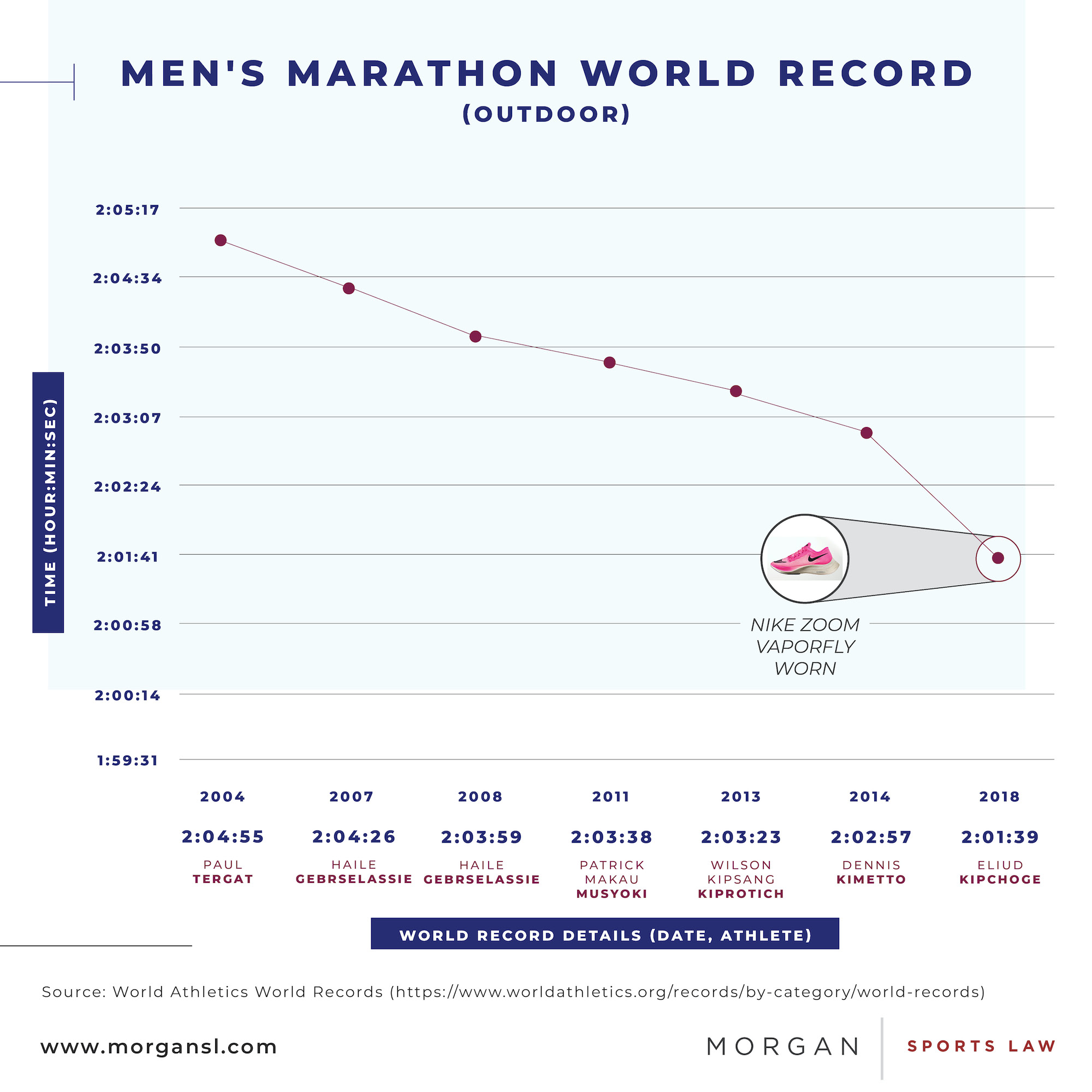 In the women's marathon, Brigid Kosgei managed to take 1 minute 21 seconds off Paula Radcliffe's sixteen year old women's world record in 2019 – an improvement of 1%, all the more impressive given that Radcliffe's mark had itself been an astonishing 1.37% improvement of her own previous world record and had been the longest-standing marathon world record by either men or women in the post-war era. Kosgei was wearing Nike prototypes.
Witnessing a world record is a thrill for any track and field fan. However, as with any development in sports technology, there are questions about fairness. Even though brands other than Nike have begun to introduce similar shoes, there are concerns that the performance enhancement provided by the new technology amounts to "technological doping" and that, because not everyone has access to the same shoes, the playing field has become unlevel.
Against that backdrop, the governing body for running, World Athletics ("WA"), stepped in with a new set of rules on 31 January 2020 (last amended on 17 June 2021). The new rules place some restrictions on the shoes permitted in races and seek to ensure fair access to pioneering shoes so that talent, not technology, wins races. The rules were designed to provide certainty in the lead up to the Tokyo Olympics and are currently under review, so further changes could be made in the coming months.
This article examines WA's new rules, considers whether WA has done enough to protect the integrity of athletics and discusses what other changes may be on the horizon.
The rule changes
Before 31 January 2020, only a short section of WA's rules was dedicated to shoes. This prevented running shoes from providing an "unfair assistance or advantage" and required shoes to be "reasonably available" but it did not provide any metrics by which to judge these requirements.
The new rules (Rule 5 of the Technical Rules) have the same goals of ensuring a level playing field and equal access to shoes. However, they have introduced more specific metrics. Specifically: (i) there are new technical rules which limit sole height and the number of embedded plates; and (ii) there are new accessibility rules which force manufacturers to make shoes available on the open market, except during an initial development period of up to 12 months when the shoes do not need to be available for purchase – these are called "development shoes".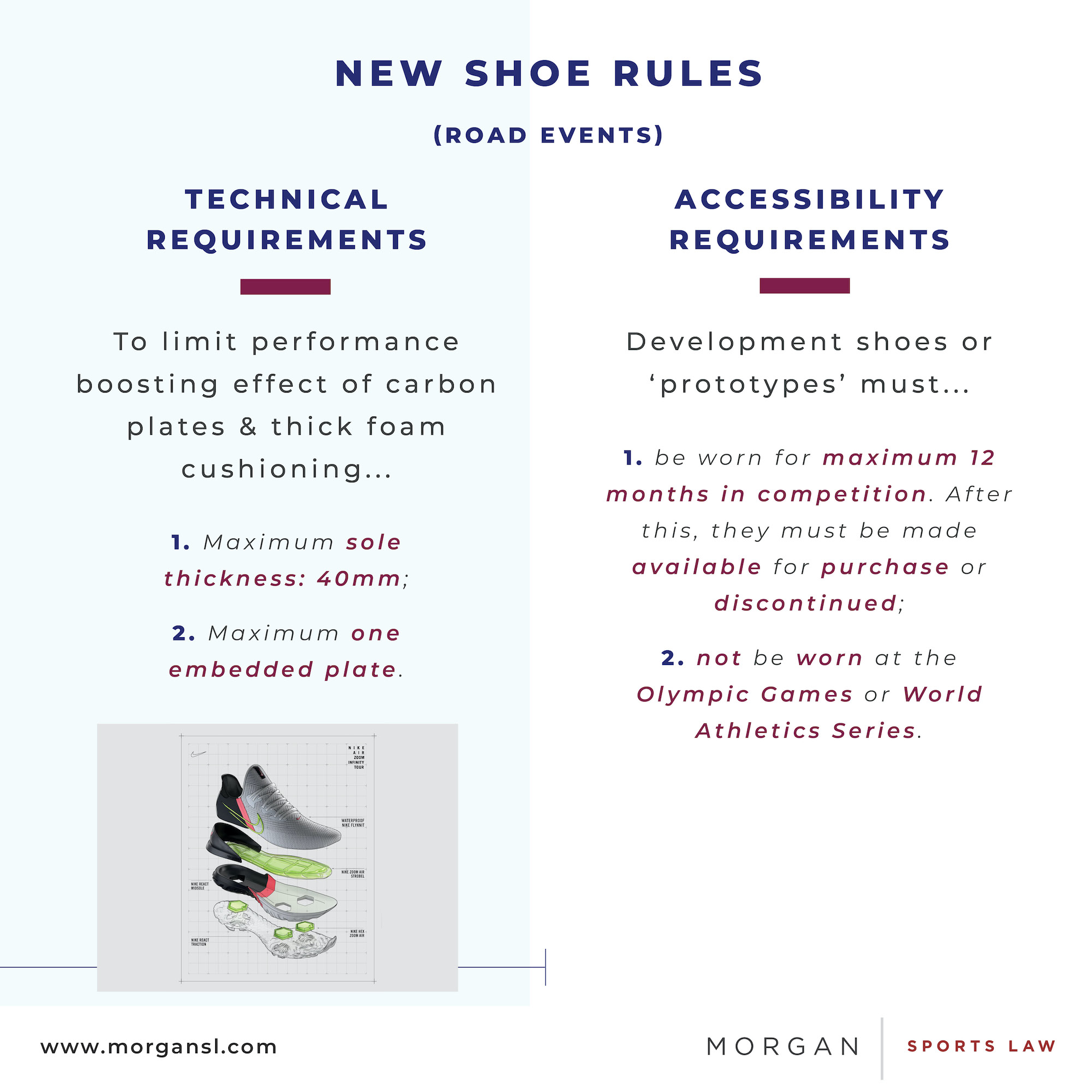 WA has also launched an Athletic Shoe Availability Scheme (the "Scheme") which requires manufacturers to make a certain number of road shoes used in competition available to unsponsored athletes.
All approved shoes (including development shoes) are listed on WA's website.
Do the new rules achieve their desired aim?
While the new rules restrict the shoes to some extent, most of the infamous Nike shoes that provide an average potential energy saving of 4% (equating to a potential of up to 3.4% improvement in running velocity at marathon world record pace) are still permitted and so the scope for disadvantage remains – particularly for those runners who are sponsored by other manufacturers.
This has led some brands to allow their runners to wear rival manufacturers' shoes for important competitions. For example, Chris Thompson, sponsored by On, was permitted to qualify for the Tokyo Olympics wearing blacked out Nike shoes after On admitted that their shoes were not yet equal to the Nikes. However, not all athletes will have such flexible sponsors, which could leave some in the dust.
For unsponsored athletes the new accessibility rules are meant to ensure that they have access to the best shoes – either on the open market or via the Scheme. But with very few details yet about how the Scheme will work, it is unclear who will be able to get their hands on a pair, and when.
The new rules on development shoes are also far from perfect. Their aim is to allow manufacturers to develop and test new shoes prior to full market release while preventing the provision of bespoke shoes to top athletes with the aim of providing an advantage. However, there are ways to get around this. For example, a manufacturer could give an athlete a bespoke development shoe to wear for the permitted 12 months and then either discontinue that shoe or severely limit its availability on the open market.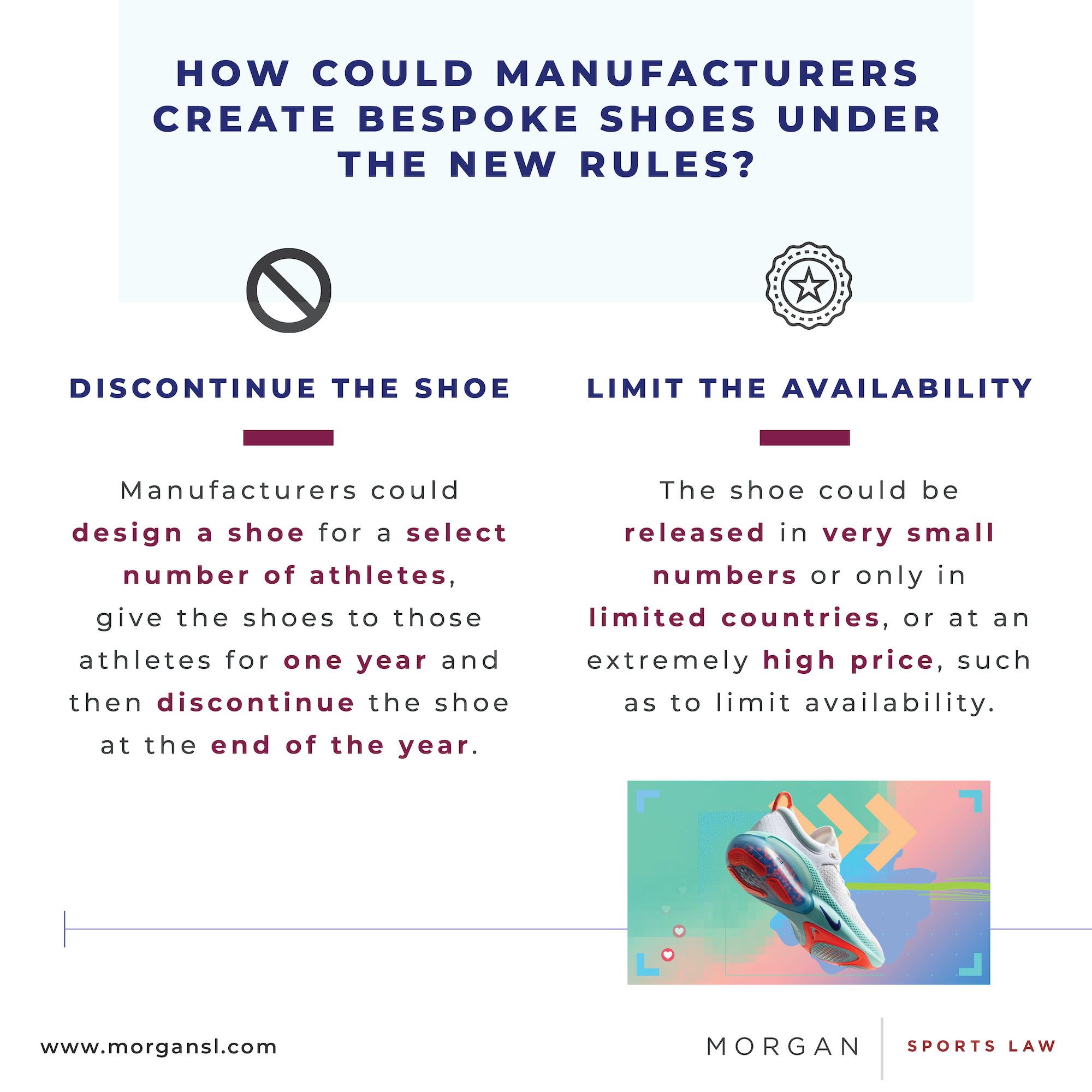 That said, manufacturers may struggle to get away with this in practice. First, the Scheme should ensure that any shoes worn after the 12-month development period are available to professional athletes, even if the manufacturer limits the wider availability. Second, WA reserves the right under its rules to sanction any athlete and/or manufacturer who is found to have acted contrary to the "spirit" of the development shoe rules. Possible sanctions against a manufacturer include removing a shoe from the list of permitted development shoes, withholding approval of a submitted development shoe and even refusing to permit any development shoes from a manufacturer. These sanctions are serious and, if enforced, could make it very difficult for the latest models from a sanctioned brand to be worn in competition.
Has WA done enough?
Some would say that shoes are just another part of the core equipment required for running and that new technology should be adopted without intervention from WA. However, the performance boost provided by carbon-plated platform shoes has been off the scale – first on the road, and now on the track. By way of comparison, it took men 29 years to improve the marathon world record by the 3.4% reduction that has been estimated as being possible with the Nike shoes in question.
Swimming faced a similar dilemma in 2008 when streamlined swimsuits made of polyurethane and neoprene helped swimmers break almost 200 world records in two years. The swimming governing body, FINA, took strict action by completely banning the materials concerned. However, it did not annul the world records that were broken using the swimsuits and many are still standing.
Should WA do the same and prohibit the materials used in the shoes? Clearly, WA would be entitled to regulate the sport in this way. However, so far WA has not been as strict as FINA – it has not completely banned carbon plates and most of the shoes that have helped break records are still permitted under the new rules. Instead, WA has restricted the extent of the performance enhancement that is permitted – and has prioritised rules that ensure all athletes have access to the same shoes. This approach is more similar to cycling where the governing body, the UCI, has for many years restricted the technical specifications for bicycles without limiting developments entirely, in order to "[make] the most of the advantages that technological evolution can bring" to the sport.
This approach makes sense in cycling, where equipment is integral, but running is a very different sport. In short, cycling would not be possible without a bike, whereas running would be possible without shoes.
Indeed, WA has to think hard about the balance between human ability and technology. Recently, WA refused to allow Paralympic runner Blake Leeper to race against able-bodied athletes. WA deemed that the prosthetic limbs used by Leeper gave him an unfair advantage (and the Court of Arbitration for Sport agreed). WA relied on Rule 6.3.4 of its Technical Rules which prevents athletes from racing with "any mechanical aid" which provides "overall competitive advantage over an athlete not using such aid". WA argued that this rule was in place to ensure a level playing field: "the ban on mechanical aids exists in order to protect the integrity of sport, by ensuring that the outcome of competitive athletics is determined by natural talent and effort, rather than technology."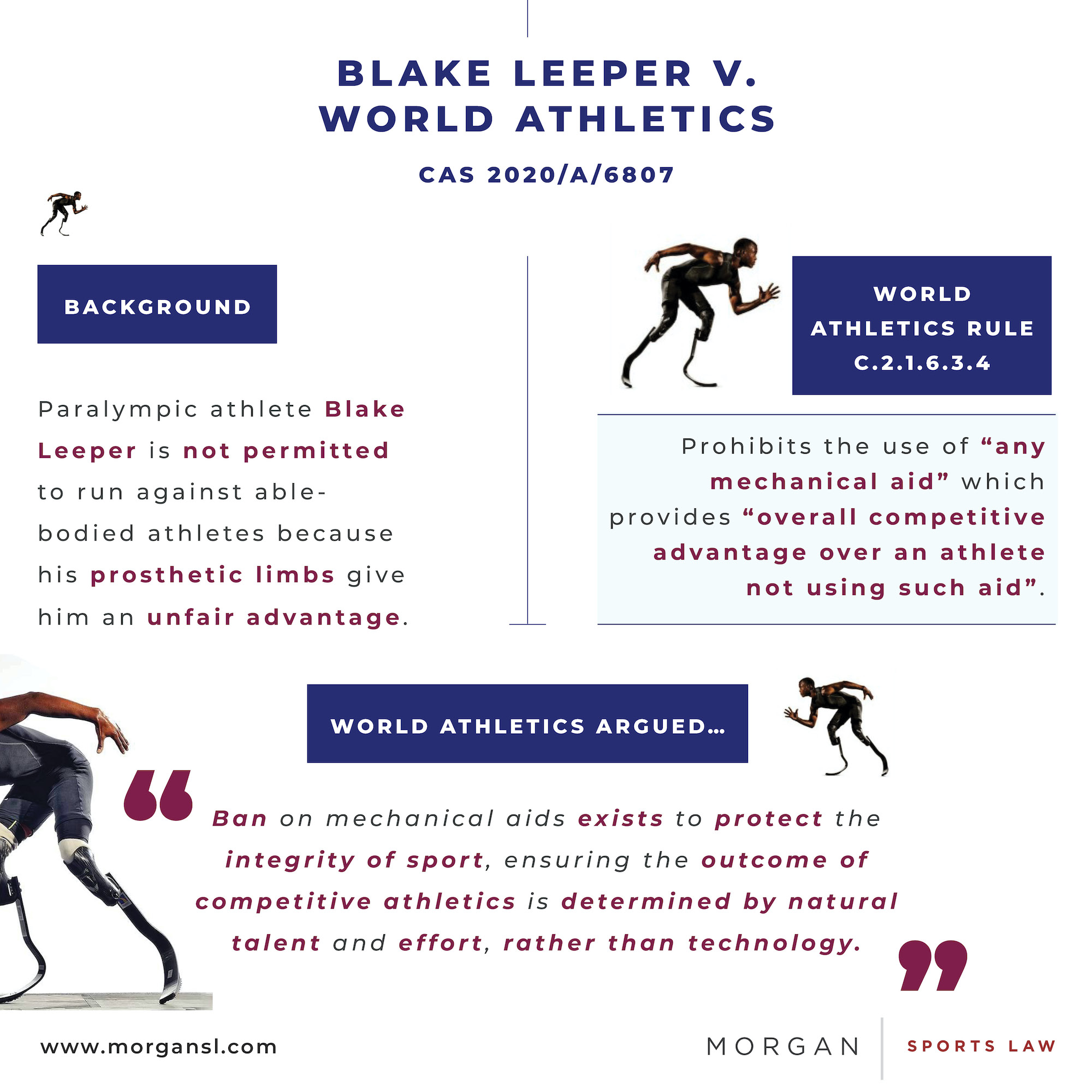 This flies in the face of WA's lax attitude towards the new shoes – which purportedly provide a 4% energy saving boost compared to 'normal' shoes. If WA judged shoes on the same criteria as it does "mechanical aids", it would have to ban the carbon-plated shoes.
Similarly, WA's approach to the shoes is somewhat at odds with sport's stance on doping. Under the World Anti-Doping Code (which governs most sports, including athletics), certain substances and therapeutic methods are banned merely because of their potential to enhance performance – WA does not even need to prove that a substance in question will enhance, or has enhanced, performance in order for it to be banned; indeed, an athlete can still be banned from competing for several years even if the substance in question, or the amount in the athlete's system, has no actual performance-enhancing effects at all. Yet, shoes that provide a potential of up to 3-4% advantage are still permitted. This is why some have called the new shoe technology "technological doping".
So why has WA not imposed tighter restrictions? It could be that WA believes that shoe technology should form a fundamental part of the sport going forward (and therefore the priority is to ensure all athletes have access to the same shoes), or perhaps it wants to appease the manufacturers, who are important financial supporters of athletics.
However, the real reason is probably as explained by WA President Seb Coe when the rules were first introduced: "As we enter the Olympic year, we don't believe we can rule out shoes that have been generally available for a considerable period of time, but we can draw a line by prohibiting the use of shoes that go further than what is currently on the market while we investigate further." Essentially, WA started to realise that the new shoe technology was impacting the integrity of the sport, but felt unable to ban existing (and very widely used) shoes in the lead up to the Olympic Games.
A Working Group on Athletic Shoes, established by WA, is currently overseeing research into shoe technology and will review whether the rules need to be changed to protect the integrity of the sport. Its findings were set to be published after the Tokyo Olympics, but this has been pushed back until "the end of…2021".
Seb Coe has made it clear that changes to the rules could be made after the review: "If further evidence becomes available that indicates we need to tighten up these rules, we reserve the right to do that to protect our sport". Whether or not WA would consider annulling the world records already set using the new shoes will remain to be seen.
What next?
WA is in a difficult position – every time a record is broken by someone wearing "the shoes" or similar, there are questions about integrity. Unlike other sports such as cycling or F1, equipment has until recently not formed an integral part of running. Now that track shoes are developing at the same rate as road shoes, and as more athletes publicly denounce the use of new shoe technology (see here and here), it would not be surprising if the Working Group suggests the introduction of more severe restrictions. Indeed, if WA does not take such a course, it will undoubtedly continue to face questions about, inter alia, the integrity of the sport, the purpose of having anti-doping rules if shoes can provide athletes advantages greater even than might be achieved by the most determined of dopers, the legacies of athletes of yesteryear who did not have access to such technologies and whose records are being obliterated, and whether records today are being broken by shoes, not athletes.
Authored By
Ellen Kerr
Trainee Solicitor
Footnote
1. The shoes reduce the energetic cost of running by 4%, which purportedly translates to an approximate 3.4% improvement in running velocity at marathon world record pace (20.59 km/h). See Hoogkamer, W., Kipp, S., Frank, J.H. et al. A Comparison of the Energetic Cost of Running in Marathon Racing Shoes. Sports Med 48, 1009–1019 (2018). https://doi.org/10.1007/s40279-017-0811-2.
2. Source: World Athletics World Records (https://www.worldathletics.org/records/by-category/world-records).
3. Paula Radcliffe took 1.37% off her own record when she ran 2:15:25 in 2003 (down from 2:17:18), and before that she took 1.07% off the previous record set by Catherine Ndereba. 
4. Find the latest list by navigating to Manuals & Guidelines -> World Athletics Shoe Compliance List.
5. The notable exception is the Nike Alphafly model worn by Eliud Kipchoge on 12 October 2019 in his sub-2-hour marathon. Those shoes have been banned since WA first introduced its new shoe rules in January 2020 because, with three carbon plates, they exceed the permitted limit of one carbon plate. See: https://www.sciencefocus.com/the-human-body/nike-alphafly-banned-technological-doping/.
6. For example, Brigid Kosgei wore Nike prototypes when she broke Paula Radcliffe's marathon world record in October 2019. See: https://www.bbc.co.uk/sport/athletics/51324991. 
7. Paragraph 173 (emphasis added).
8. See the 17 June 2021 amends to the Technical Rules at C.2.1.5.2.2 (https://www.worldathletics.org/about-iaaf/documents/book-of-rules).