New FEI rules are coming: First draft published!
Overview
On 6 July 2022, the FEI released the proposed changes to its veterinary, eventing, dressage and para dressage regulations. National Federations ("NFs") and Stakeholders have until 24 August 2022 to provide feedback on the proposed rules.
Comments can only be submitted via an NF or a stakeholder with whom the FEI has signed a Memorandum of Understanding ("MOU"). If you are an individual such as an athlete, groom, owner, vet or other official wishing to provide feedback, you will need to provide your comments via your NF or via a stakeholder organisation of which you are a member.
NFs and stakeholders can submit their comments online, using the FEI's dedicated rules revision platform (using templates which can be found here).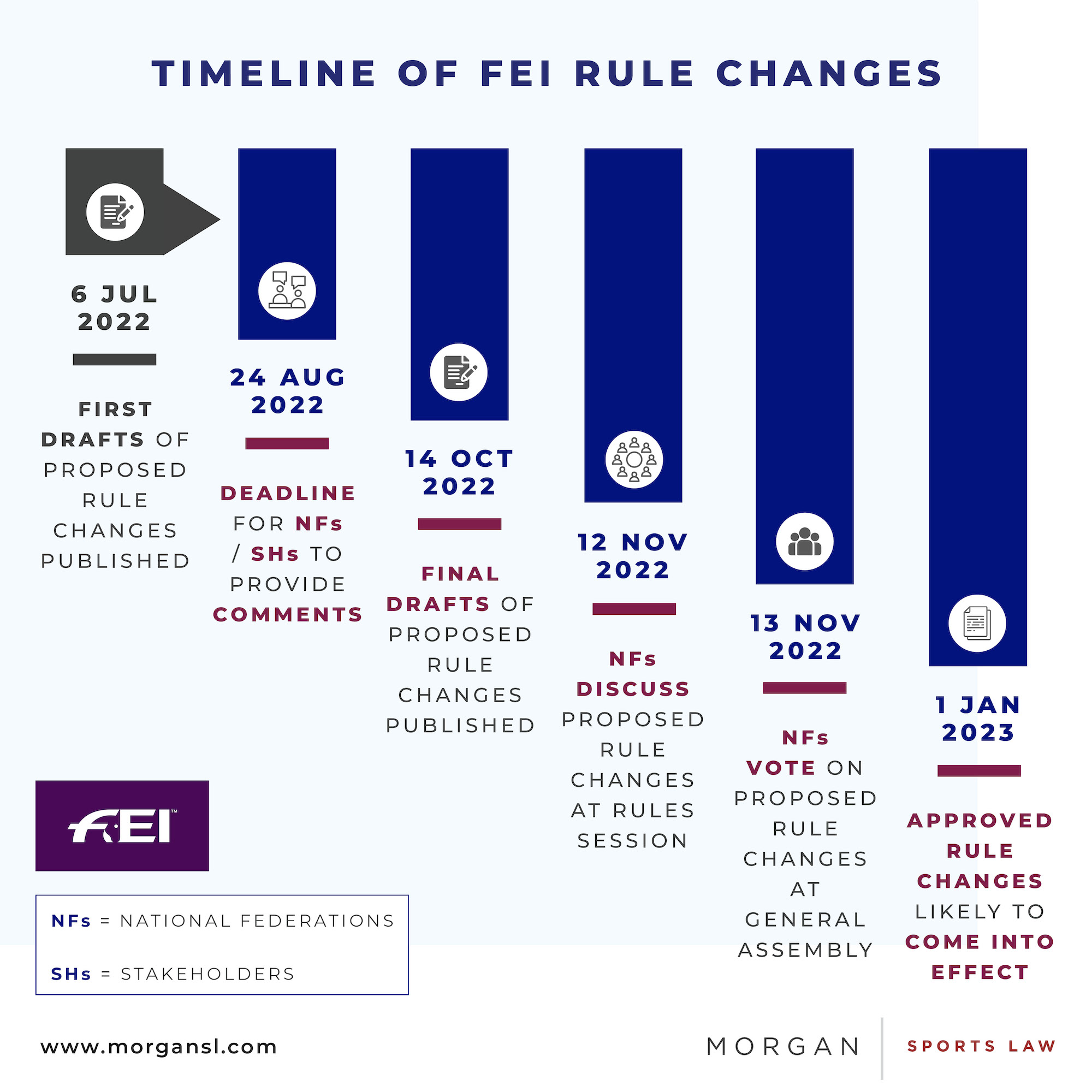 Outlined below are some of the major changes proposed at this stage – some of these were suggested by stakeholders and NFs, others by the FEI itself. Remember that these are not the final rules – and further revisions are likely to be made after the first round of feedback.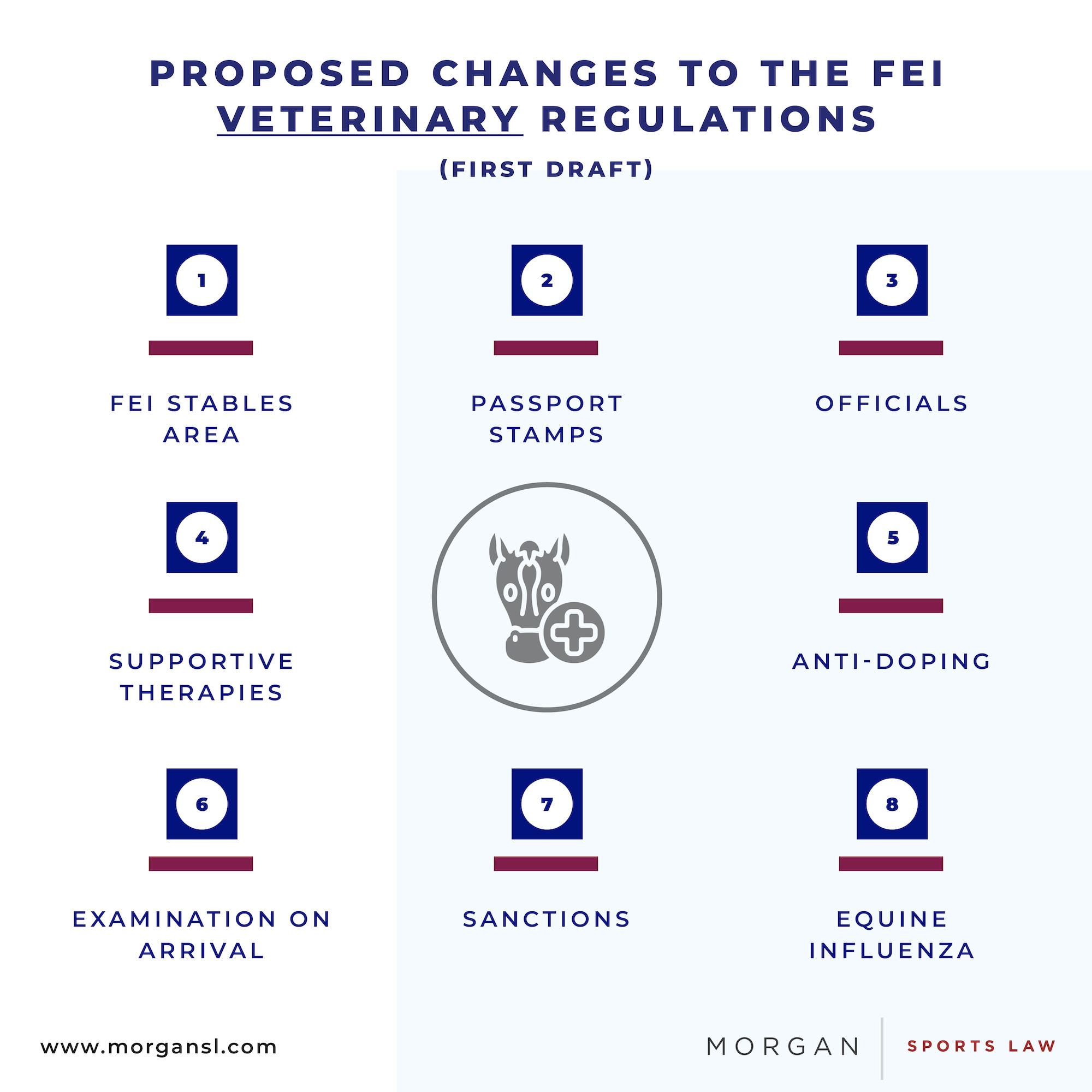 Veterinary
Stabling: The "FEI Stables Area" will become a defined term under the rules – and will be treated differently to the stabling for non-FEI horses. The FEI Stables Area will be closed for 6 hours overnight and non-FEI horses / horses not complying with vaccine requirements will not be permitted in the FEI Stables Area.
Passport stamps: When horses remain at the same venue for consecutive weeks (e.g. for tours), their passports do not need to be stamped each week.
Supportive Therapies: Several treatments have been added to the list of Non-Restricted and Restricted Supportive Therapies. For example, massage guns will be Restricted under the new rules, so must only be used by a Permitted Equine Therapist or Permitted Treating Veterinarian.
Anti-Doping: There will be obligatory anti-doping tests on the top placing horses at FEI World Championships for Seniors[1] (in the same way that there already is obligatory testing at Olympic Games and World Equestrian Games). At other events, horses may be selected for anti-doping tests based on their placings.
Examination on Arrival: The Organising Committee, rather than the Veterinary Committee / Delegate, will be responsible for ensuring the Examination on Arrival is carried out properly.
Sanctions: Those who fail to comply with a request to update a horse's passport and those who urinate (or whose pets urinate) in stables or loose boxes can now be fined.
Officials: The requirements for the number and level of officials at events has changed, including allowing the FEI to agree to derogations from the rules on a case-by-case basis.
Equine influenza: The intervals in the primary course of equine influenza vaccinations have been revised – but this only takes effect from 1 January 2024 onwards.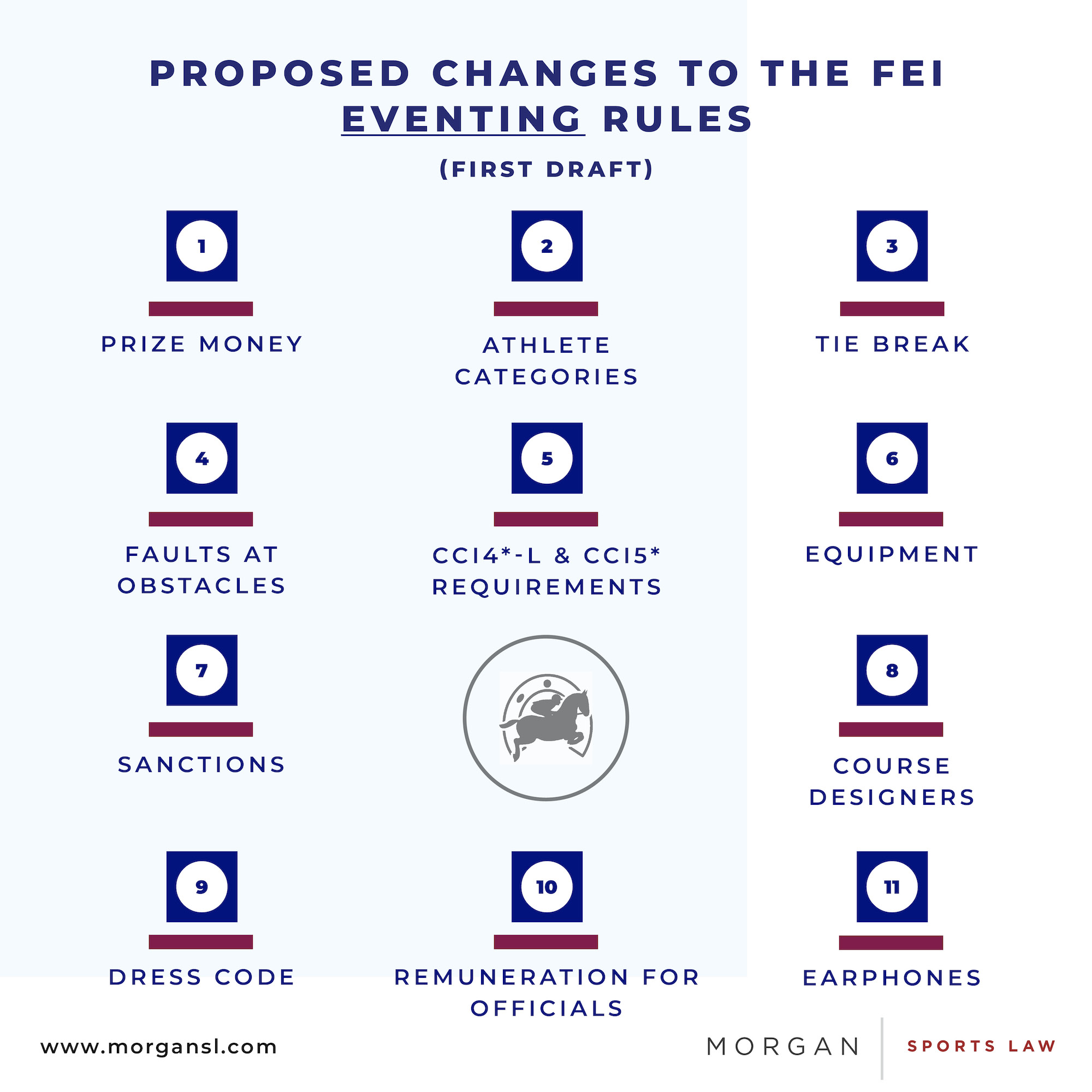 Eventing
Prize money: Under exceptional circumstances, the FEI can agree for an organiser to change the prize money amount after the deadline for submitting the definite schedule.
Athlete categories: Athlete categories will be updated monthly (rather than six-monthly) and will be based on a rolling four-year period (rather than eight-year). The number of Minimum Eligibility Requirements (MERs) required will be reduced accordingly.
Tie break: If there is still a tie break after the cross country score is considered, the dressage points will be used to determine placings.
Faults at obstacles: In competitions where jumping is before the cross country, riders who score 20 or more obstacle penalties in the jumping test will be eliminated so they cannot compete in the cross country.
CCI4*-L and CCI5* requirements: Horses will have to complete a 3*, 4* or 5* within the 13 months prior to competing at 4* and 5* competitions (requirements depend on the level and format of the competition).
Course Designer responsibilities: Course Designers will be permitted to stop a combination for dangerous riding on the cross country course – though the Ground Jury will remain responsible for elimination (not the Course Designer).
Course Designers: Course Designers will only be permitted to work at the same CCI4*-L and CCI5* (including Championships) for six consecutive years.
Earphones: During warmups and training sessions, athletes and grooms will only be permitted to wear one earphone while mounted.
Dress code: The dress code in Dressage and Jumping tests have been updated to bring it in line with Dressage and Jumping rules. Boots with a "well-defined heel" must be worn.
Remuneration: There will be a recommendation (not a requirement) for Judges, Technical Delegates and Chief Stewards to be paid EUR 100 per day at events.
Equipment: In cross country, bits with a lever arm may not exceed 10cm. Currently this is measured from the highest point where the bit is stopped to the lowest point of the lever arm. The proposal is that it will be measured from the lowest point where the bit is stopped.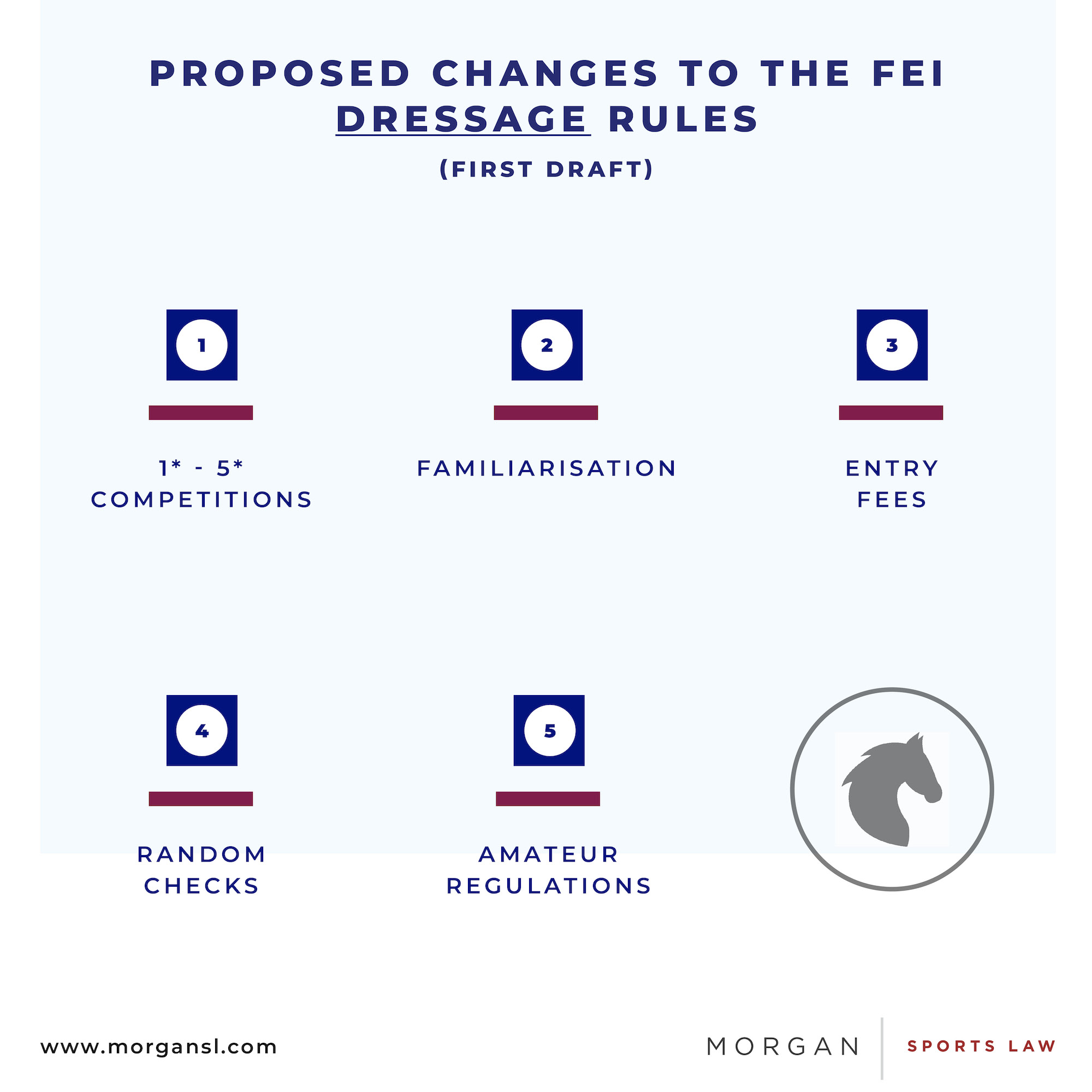 Dressage
New Structure for Events: CDIOs[2] and non-Nation Cups, may now be organized in 1*, 2*, 3*, 4* and 5* and in youth categories. Dressage has introduced CDIO1* to help riders progress through the international ranks more easily. Each level will contain minimum qualification requirements, minimum athlete ages, horse ages, prize money, bridles, tests to be ridden and minimum qualification within shows.
Entry Fee: The rules on entry fees have been updated to reflect other disciplines. Entry fees may now contain compulsory fees and discretionary fees. Entry fees for participation in an Event with one horse will cover stabling for one horse, use of all facilities, right to participate in all competitions and administrative/office fees.
Amateurs: The FEI has completely overhauled the amateur rules, with the aim of standardising amateur competitions. Although there are new criteria for athletes to meet the definition of Amateur, judging will have the same principles as at professional CDIs.[3]
Familiarisation: Athletes must be given the opportunity for familiarisation in a fully set-up competition arena at Championships, Games, and Finals. At CDI level, this is a recommendation rather than a requirement.
Random Checks: Random checks will be conducted more frequently and may result in yellow cards and elimination if an Athlete is found in violation. This includes random checks for:

fake tail adaptations – including metal parts or added weight;

earplugs - forbidden generally (however permitted at Horse Inspections and Prize giving ceremonies for safety reasons);
artificial decoration of the horse; and
fly masks within the competition arena.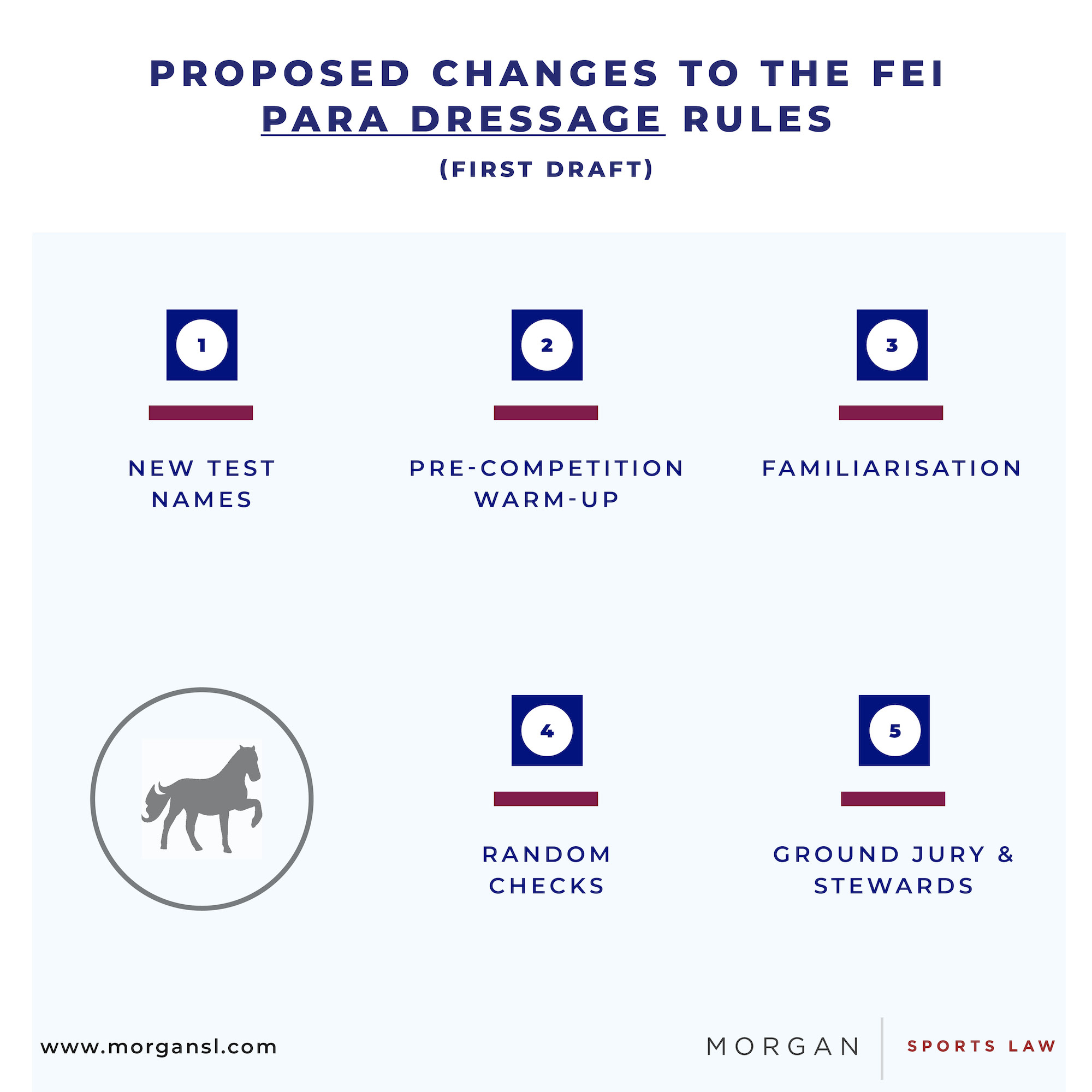 Para Dressage
New structure: The format of CPEDIs[4] will change to allow more progression through the levels – each level will have appropriate tests. There are also new test names, such as Para Grand Prix, Para Grand Prix Special and Para Grand Prix Freestyle.
Pre-Competition Warm-Up: The last practice arena before entering the Competition arena will now be known as the "ten minutes Arena." At Paralympic Games and FEI Championships the ten minutes Arena must be available for use, and it is recommended for all other Events.
Familiarisation: Just like Dressage, Para Dressage Championships and Games will have a mandatory time schedule for familiarisation in the fully set-up Competition area.
Random Checks: Para Dressage will also see random checks for false tails, ear plugs, artificial decoration, "marshmallow fluff" to imitate foaming at the mouth, gadgets such as martingales and fly masks.
Ground Jury and Stewards: CPEDI1*, CPEDI2*, CPEDI3*, FEI Championships and Regional Games and FEI World Championships and Paralympic Games will now have a revised list of specific requirements at each level.
What is the next step?
You have until 24 August 2022 to provide comments to the FEI (via an NF or stakeholder organisation). The FEI will review the feedback and make any changes it deems appropriate ahead of the NFs voting on the rules at the FEI General Assembly in November.
Your views can make a difference, but only if you make them heard!
Authored by
Emma Waters
Senior Associate
Equestrian Services Team
Ellen Kerr
Trainee Solicitor
Equestrian Services Team
Footnote
1. Seniors are Athletes aged 18+.
2. A CDIO is an official international dressage event with team and individual competitions (see article 445 of the FEI Dressage Rules 2022).
3. CDI stands for "Concours Dressage International", meaning international dressage event (see article 420 of the FEI Dressage Rules 2022).
4. A CPEDI is an international para dressage event (see article 8420 of the FEI Para Dressage Rules 2022).