FEI rules – 6 changes for 2022
Riders, owners, trainers, grooms, veterinarians, and other individuals involved in international equestrian competitions need to be familiar with the rules of the Fédération Equestre Internationale ("FEI") – the international governing body for horse sport. The rules cover a broad range of issues, from anti-doping, horse welfare and safeguarding, to the nitty gritty of each discipline.
The FEI typically updates its rules each January and publishes a "redline" clearly identifying the changes. In this article, we lay out six of the more interesting rule changes you should be aware of going into 2022. Perhaps it will inspire you to add the task of keeping up with the FEI rules to your list of New Year's Resolutions.
1. FEI Atypical Findings Policy
The FEI Atypical Findings Policy ("ATF Policy") is not actually new for 2022 (it took effect from 1 January 2021) but with the impact on competitions caused by COVID-19 and EHV-1 last year, you would be excused for having not yet heard of it.
The ATF Policy was introduced to provide the FEI with more flexibility when a horse returns a positive doping sample likely caused by contamination or some reason other than intentional performance enhancement. The ATF Policy gives riders and other "persons responsible" the opportunity to explain the source of the substance before they are formally charged with a doping violation.
The substances that will trigger the ATF Policy are currently: all Specified Substances, ractopamine, zilpaterol, and endogenous substances (originating naturally inside the horse).
After the rider has provided their initial explanation for the positive finding, the ATF Panel will either decide that the case should be dropped (resulting in no disciplinary measures and no disqualification of results) or that it should be pursued as a normal adverse analytical finding (which could result in disciplinary measures).
An additional benefit of the ATF Policy is that the proceedings are confidential – whereas violations pursued as an adverse analytical finding are usually published on the FEI website. So if your explanations are accepted and the case is dropped, it is as if it never happened.
This is a great step forward for substances like synephrine, which has been found in at least 21 horses due to its natural occurrence in grass fed to horses in countries like Mexico and South Africa. Previously, riders whose horses had tested positive for synephrine faced FEI Tribunal proceedings (most of which ended in a settlement agreeing that the source was contaminated hay) and had their results disqualified. Going forward, riders will get the chance to explain the source before they are charged with a doping violation which should be quicker, less expensive, and ultimately less painful for those caught up in a contamination case. This is particularly true since if the rider convinces the ATF Panel not to take the case forward as an adverse analytical finding then the rider can keep the result achieved in the competition.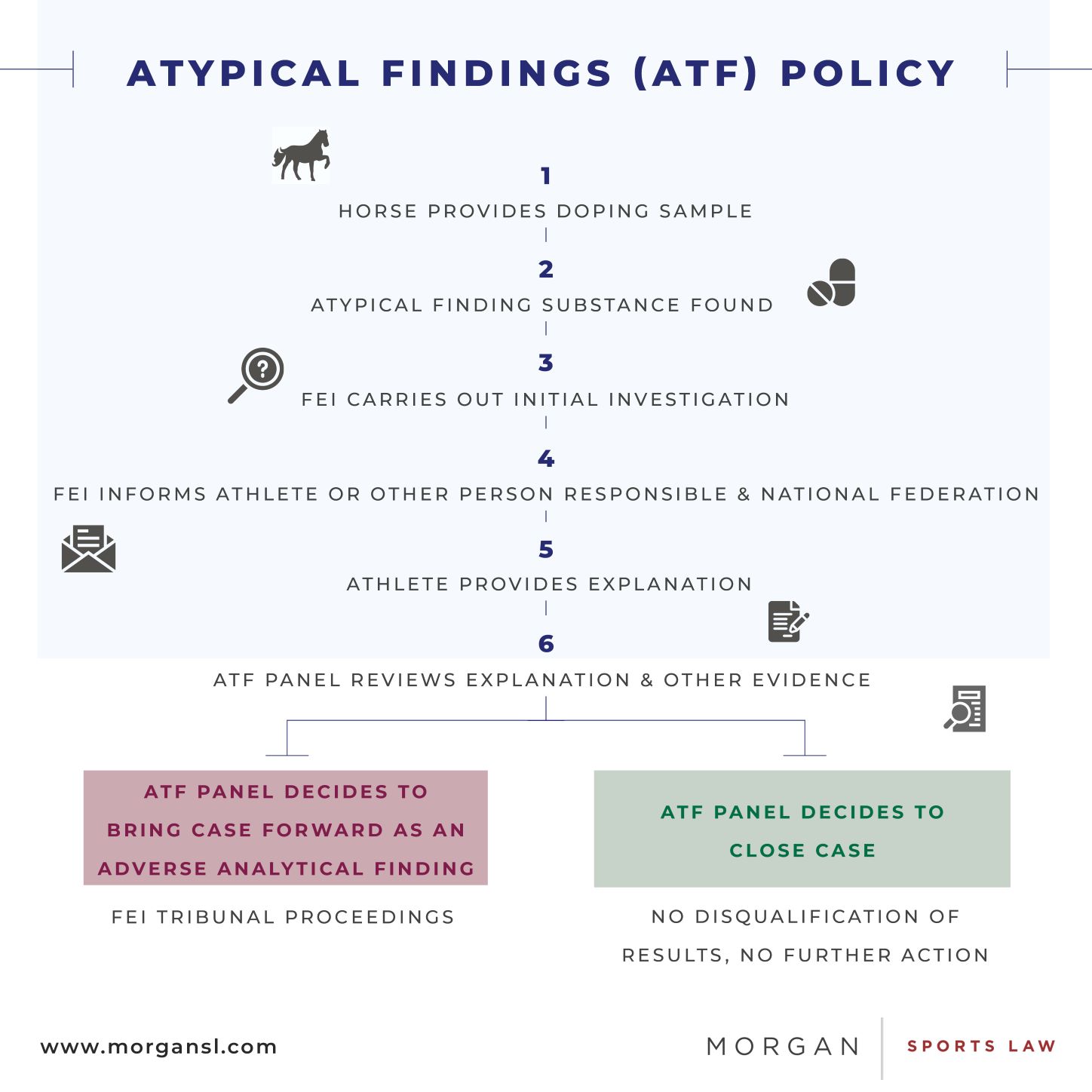 2. Changes to the Equine Prohibited Substances List
The Equine Prohibited Substances List ("EPSL") identifies the substances prohibited in horses competing in FEI competitions – it is the equivalent of the World Anti-Doping Agency Prohibited List which identifies the substances banned for human athletes. Knowing your way around the EPSL is integral to avoiding a doping violation.
The 2022 EPSL came into effect on 1 January 2022. The changes include:
10 substances have been added, including Levamisole (used to treat EPM), Clopidogrel (an antiplatelet medication) and Indacaterol (a new drug to treat respiratory disease).
46 Controlled Medications (permitted out-of-competition) have been changed to Banned Substances (never permitted).
3 Banned Substances (never permitted) have been changed to Controlled Medications (permitted out-of-competition).
A threshold for arsenic has been introduced, meaning that samples containing less than 0.3 microgram of arsenic per milliliter of urine will not be reported as a positive sample.
One substance has been removed – Isofluprednisolone.
Stay up to date with the EPSL and always check that any feed, medication or supplements for your horse do not contain substances on the EPSL before administration. The FEI prohibited substances database and Clean Sport mobile app are easy ways to check. If in doubt, seek guidance from the FEI and/or a qualified veterinarian.
3. Officials' authority
During FEI events, FEI Officials (Stewards, Ground Jury, Technical Delegate etc.) have the authority to sanction riders, owners and support personnel who violate FEI rules – for example by giving out warning cards, disqualifying, eliminating or fining the individuals concerned. But do you know when the authority of the FEI Officials starts? Is it when you arrive on site? When the first competition begins? When you first step out into the arena?
Previously the "Period of the Event" when FEI Officials had authority was defined as commencing "one hour before the beginning of the first Horse Inspection" and terminating "half an hour after the announcement of the final results".
The FEI has now added an "Onsite Preparation Period" to this, confirming that the FEI Officials' authority over riders, owners, and support personnel on-site starts as soon as the stables are opened. So riders, owners, and support personnel must all beware of their conduct from the moment they arrive at the venue.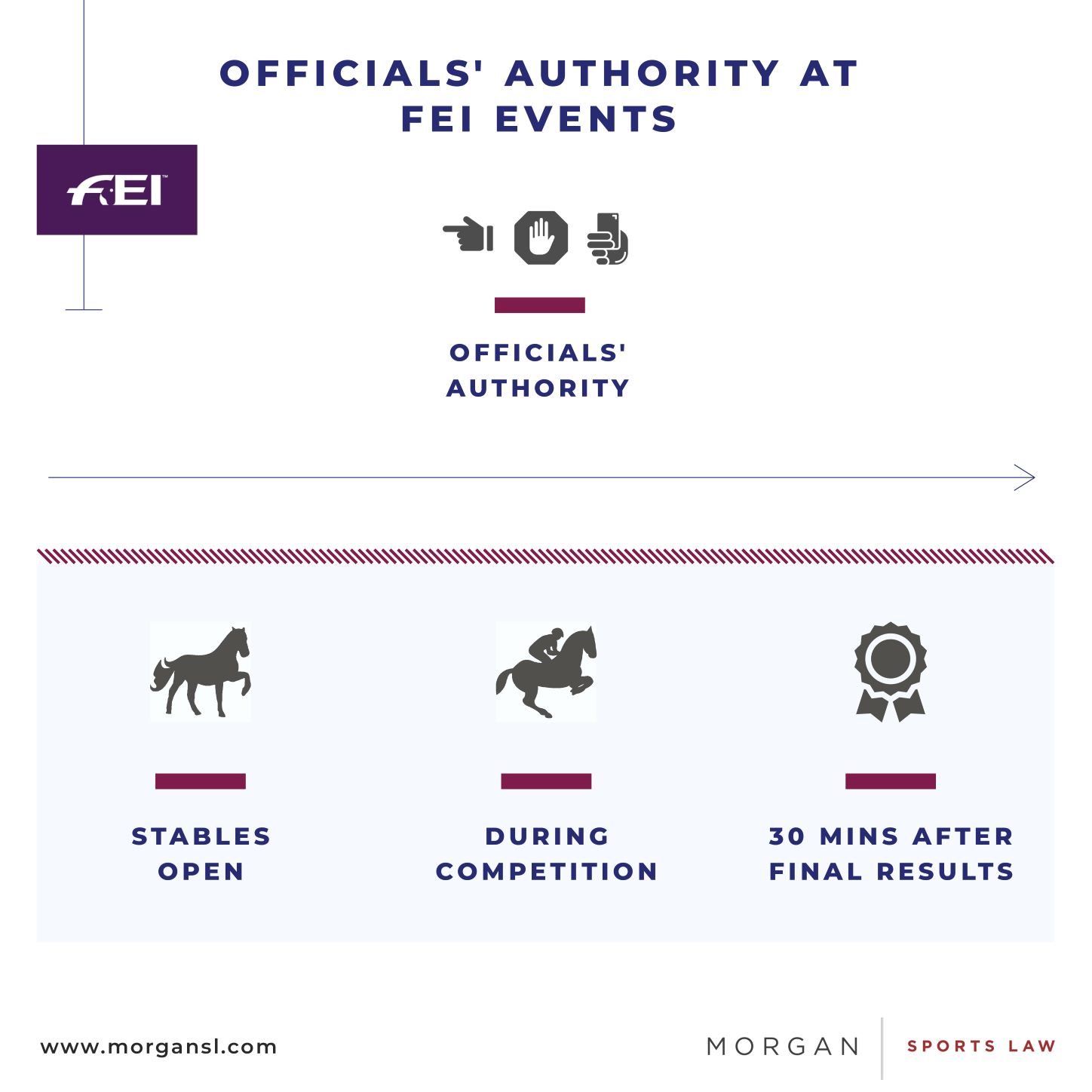 4. Photography
Following a suggestion from the International Jumping Officials Club ("IJOC"), the FEI has added a rule allowing FEI Officials to record photos, videos and/or audio recordings of horses, riders, owners, trainers, other relevant individuals and relevant tack or equipment during FEI events, for the purpose of fulfilling their duties. This is not just when someone has done something wrong – the IJOC said it was important for Officials to take photos of certain things as a learning point to discuss during meetings.
Naturally, there will be concerns about privacy. However, the footage may only be shared "in connection with the fulfilment of the Official's duties" and Officials are subject to a strict Code of Conduct meaning that, in case of misuse of footage, they may face disciplinary sanctions.
5. Minor events
Lower-level international events are classed as "minor" events (known as "Concours International Mineur" – "CIM") and are subject to more flexible FEI rules such as regarding horse passports, participation of foreign athletes and deadlines for event schedules.
In the discipline of Endurance, rides up to CEI2* (139km) were previously classed as minor events. The FEI proposed removing CEI2* events from the CIM category as it felt that rides of 139km were not "minor". There was opposition from National Federations such as New Zealand, Sweden and the UAE because minor events are simpler to run and more accessible for athletes. However, the FEI General Assembly approved the change and so CEI2* events are no longer minor events under the 2022 FEI General Rules.
6. The FEI goes gender neutral!
While not strictly a rule change, the FEI has taken a progressive step by removing all gender pronouns (he/she) from its General Rules and some of its sports rules, including Dressage and Eventing. For example, it is no longer: "an Athlete may withdraw any or all his/her Horses from a competition"; it is now: "an Athlete may withdraw any or all their Horses from a competition".
However, curiously the FEI has not rolled this change out across all of its rules. The FEI Statutes still use "he/she" and there are still references to individuals as only "he" (not "he or she") in the 2022 Jumping Rules and the 2022 Endurance Rules.
Of course, the rules make clear (and it is a standard legal principle) that "the use of the masculine shall be interpreted to also include the feminine form", but many organisations such as the European Parliament and the UN are recognising that gender inclusive language is preferable.
These are just some of the more interesting rule changes to be aware of going into 2022. Let us hope for a return to more normal competition schedules this year! If you have any queries or doubts about FEI rules, please get in touch and we will be happy to provide guidance.
Authored by
Emma Waters
Associate
Equestrian Services Team
Ellen Kerr
Trainee Solicitor
Equestrian Services Team
Footnote
1. Normally the athlete who rides, vaults or drives the horse during the event, but it may also be the owner and other support personnel depending on the circumstances. See Article 118 of the FEI General Rules.
2. A category of prohibited substances which are more likely to have been ingested by horses for a purpose other than the enhancement of sport performance, for example through contaminated feed. Examples are caffeine, arsenic, cannabinoids, morphine and synephrine. See the 2022 FEI Equine Prohibited Substances List for more.
3. Unless there are compelling reasons to make a public comment. The ATF Policy does not explain what might constitute a compelling reason.
4. Equine Protozoal Myeloencephalitis.
5. See "Onsite Preparation Period Definition" at Appendix A of the FEI General Rules.
6. Article 156.3 of the FEI General Rules.
7. Appendix H of the FEI General Rules.
8. For example Article 270.5, Article 271.6 and Annex X: Article 6.1.
9. For example Article 852.2. This is likely an error, as the file name is "FEI Endurance Rules - 1 January 2022 - CLEAN VERSION - Gender Neutral-VC..." – suggesting it was intended to be gender neutral.