COVID-19 AND ANTI-DOPING TESTING: IS VIRTUAL TESTING THE ANSWER AND THE FUTURE?
Over the last few months, social distancing measures have caused a considerable disruption to anti-doping testing worldwide, with anti-doping organisations ("ADOs") such as the United States Anti-Doping Agency ("USADA") focused "only on mission-critical testing" and UK Anti-Doping ("UKAD") announcing "significant reductions". Although the most recent guidance of the World Anti-Doping Agency ("WADA") advocates resuming testing programs where possible, their suggestion that a "phased-in approach" be considered underscores expectations that testing will not revert to pre-pandemic levels anytime soon. This has fuelled concerns among ADOs, athletes and fans that those who wish to cheat have had, and will to some degree continue to have for the foreseeable future, a "free pass" to do so.
One possible interim solution to address the issue is "virtual testing", trials of which have been conducted by USADA during the pandemic. This article explains how USADA's virtual testing program is currently operating and how it may be refined, and illustrates how virtual testing may prove to be a useful tool in the world of anti-doping irrespective of any pandemic.
How does USADA's virtual testing program currently operate?
Currently a voluntary program, as USADA has explained, virtual testing sessions occur via a video calling platform such as Zoom. Athletes receive sample collection equipment via post, and may be called to commence a sample collection session during their nominated daily one-hour slot.
When an athlete is video called to provide a urine sample, they will be asked to provide a virtual tour of the bathroom in which they will provide it. That step is likely required to ensure, as far as is practical, that the athlete does not have to hand anything with which to cheat the system – for example, "clean" urine to fill the sample collection bottle with (i.e. instead of the urine in their bladder at the time). Then, the athlete will place their camera outside of the bathroom before providing their sample, such that the urine leaving the athlete's body and being collected in the bottle is not observed (unlike traditional urine sample collection sessions). Meanwhile, the sample collection personnel monitors how long the sample provision takes (noting whether it takes a suspiciously long time) and, after the sample is collected, a thermometer built into the collection device must be shown to the camera to confirm that the sample's temperature is consistent with it just having left the athlete's body.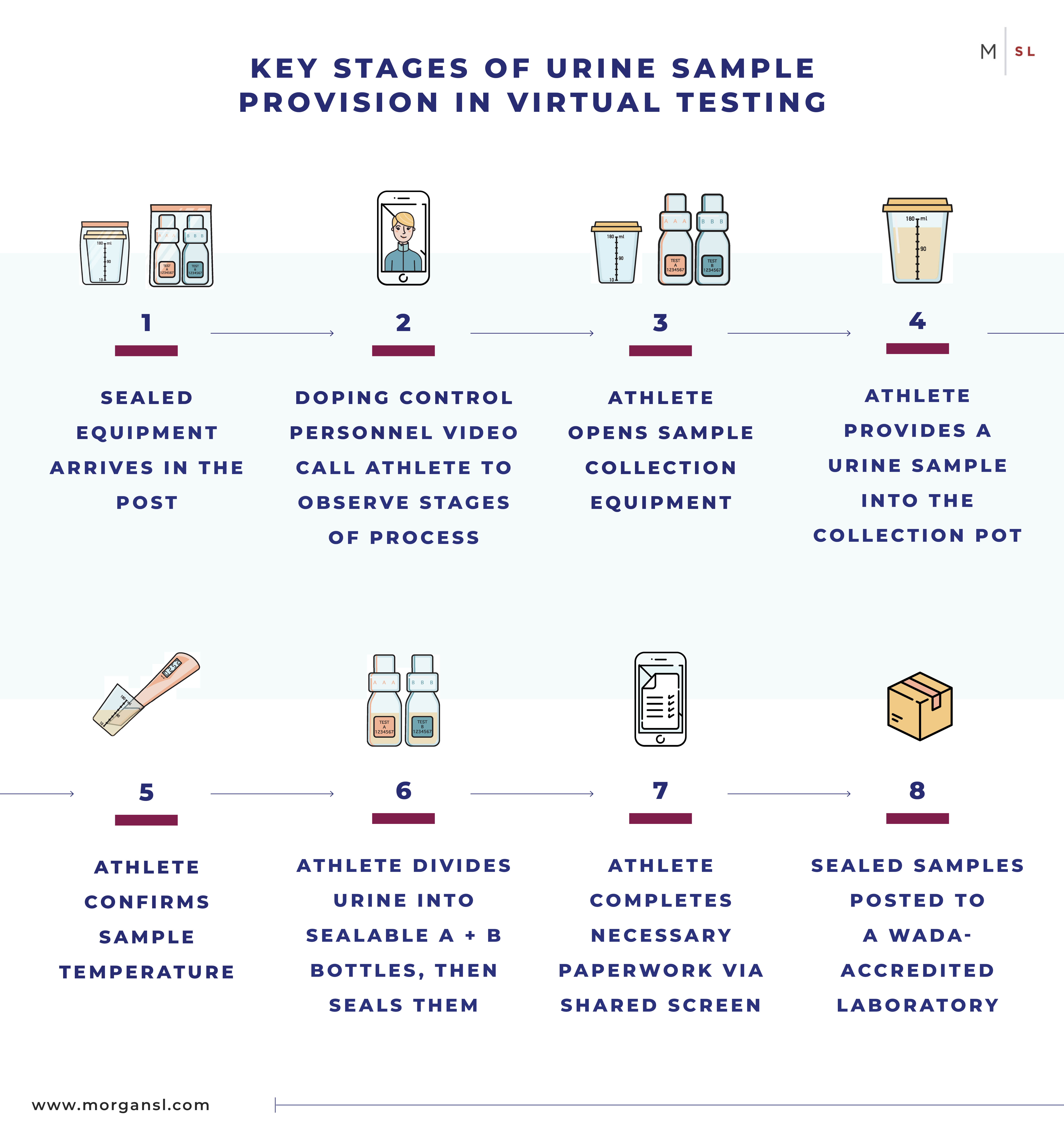 Athletes will also be required, if requested, to provide blood samples in the form of "dried blood spots", using a small pin prick device on the upper arm (contrary to traditional doping control blood sample collection sessions, where a needle and syringe are used by appropriately-trained personnel).
To conclude the session, all samples are sealed and packaged by the athlete on camera – with the necessary paperwork completed via screen sharing – before the athlete sends their samples to a laboratory.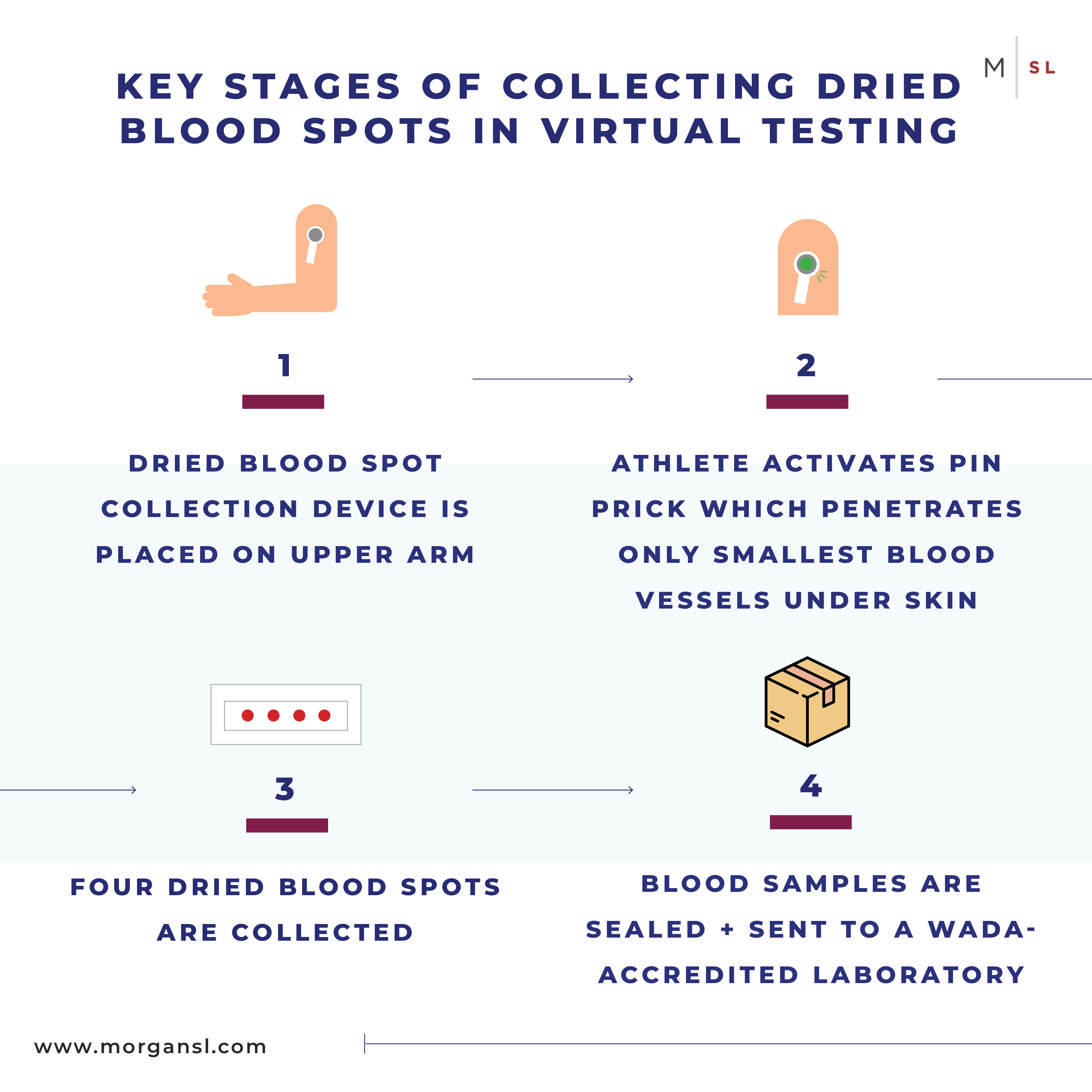 Key limitations and potential improvements
Although USADA's virtual testing program carries promise, careful thought will have to be given to several matters, such as those described below, in order for virtual testing to become truly viable.
One particularly sensitive issue is the degree to which the collection of urine will be observed by sample collection personnel. USADA have confirmed that "for obvious privacy reasons, we're not actually watching the urination like we would do in an in-person collection". Accordingly, WADA's requirement for sample collection personnel to keep "the Athlete under observation at all times" and for them to have "an unobstructed view of the Sample leaving the Athlete's body" is not satisfied here. Presumably, those "obvious privacy reasons" cited by USADA would include concerns that video calls could be improperly accessed by a third party. It will be interesting to see whether, if video call services develop enough to be considered suitably secure, future iterations of virtual testing programs will mandate the remote observation of the sample leaving the athlete's body, thus complying with this element of WADA's urine sample collection protocols. If so, that may well raise new data protection and privacy issues, beyond those raised by the existing anti-doping regime.
Another important issue relates to the blood testing element of USADA's virtual testing program, which uses "dried blood spot" testing. While such testing could be used in determining the presence or absence of certain prohibited substances, it has limitations relative to traditional doping control testing. Most significantly, these include the inability for dried blood spots to contribute data towards the athlete biological passport ("ABP") as the damage sustained by blood cells during the drying procedure results in many of the ABP variables becoming immeasurable.
Further, the viability of virtual testing in respect of an athlete will obviously be limited by the quality of the telecommunications signal and equipment (if any) to which they have access. Common sense will have to be applied, or guidelines devised, to ensure that athletes are not penalised for missing tests due to technological failures. For athletes without access to appropriate signal and equipment, there will of course be no substitute for traditional in-person testing.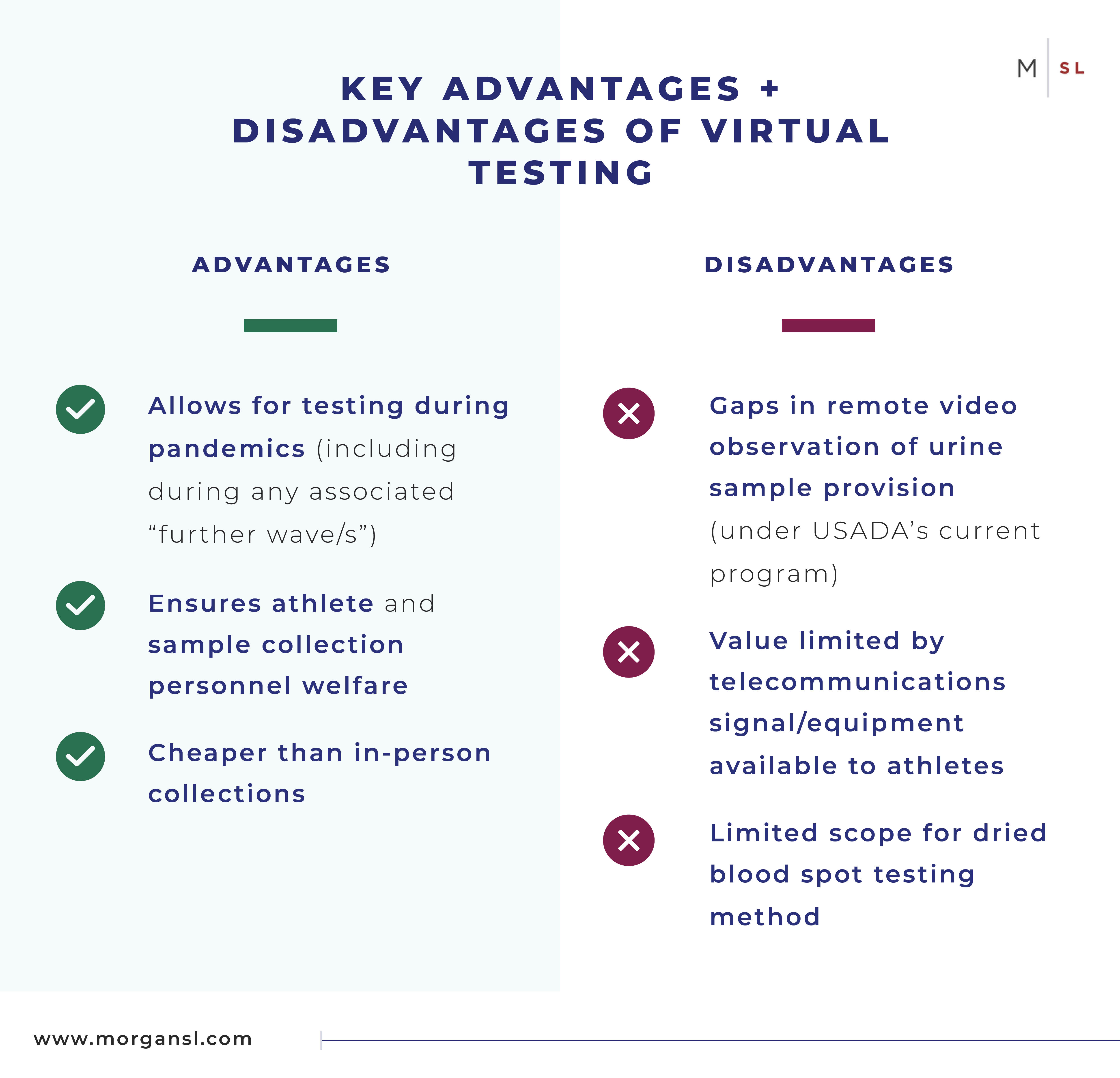 Is virtual testing the future?
Although further refinement will likely be necessary, virtual testing has the potential to assist in minimising disruptions to anti-doping operations for the duration of the COVID-19 pandemic (and any further waves) and any other similar pandemics in the future. In fact, irrespective of any global health crises, the inevitable lower costs associated with virtual tests could (assuming that suitable safeguards and quality controls are in place) result in a shift away from traditional in-person testing, and towards virtual testing. The savings made could well lead to a rethinking of how and where the resources of ADOs are allocated, to ensure that anti-doping operations are run more efficiently.
Authored By
Richard Martin
Partner
Ihar Nekrashevich
Science Analyst
Footnote
1. See WADA's International Standard for Testing and Investigations at article 5.4.2.a. and paragraph D.4.9 of Annex D
2. W. Li, F.L.Tse. (2010) Dried blood spot sampling in combination with LC-MS/MS for quantitative analysis of small molecules. Biomed Chromatogr. 24(1): 49-65